Children's rooms can easily get chaotic. Tons of toys, beaucoup books, copious clothes and often multiple kiddos sharing one space is a recipe for some serious clutter. Plus, kids really don't care about organization. Why put it away when there is a perfectly good bed to hide it under or drawer to stuff it inside, right?
But if you give kids the proper tools, you can head the mess off at the pass. Give them storage that works, such as this mesh dresser, daily closet cubby system and cheery clothes hamper. When they can see inside, they will be less apt to 'tear' apart the contents looking for something. When clothes, sports equipment, etc. are kept in a day-by-day cubby, it's grab and go. Dirty clothes? Let the ladybug eat them!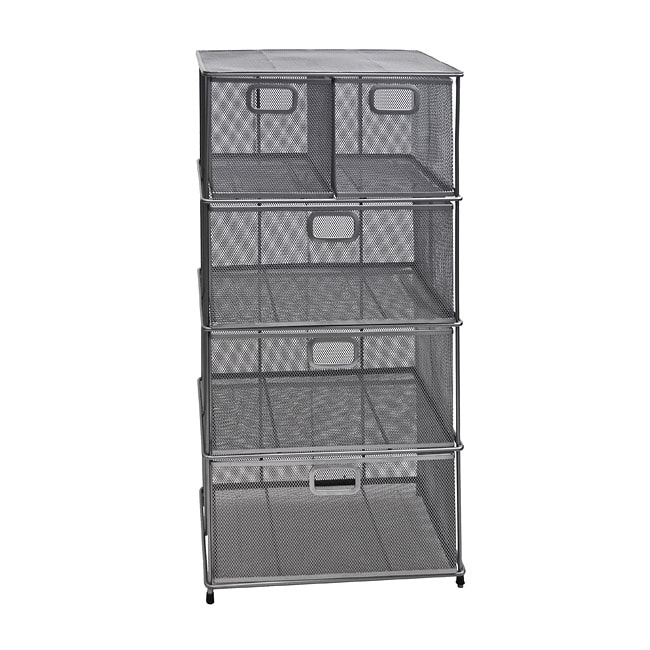 Mesh storage units, colorful daily closet organizers and character clothes hampers make decluttering (and daily clean up) a cinch.
These days, many people are downsizing and trying to squeeze into smaller homes or are two small blending families into a larger one. This is the perfect opportunity to organize and simplify not only the entire household but your kid's rooms as well. Clear out duplicate items, clothing that no longer fits, isn't worn or has acquired too many Kool-Aid stains. Get rid of books and toys that are no longer age-appropriate and provide easily accessible storage to enable quick and easy clean up and a maintainable organized space.
If you also give your children fun and creative ways to organize their things, they will tend to be better about keeping their space clean.
Some places to find a variety of fun, colorful and kid-friendly organizing and storage units include Storables , the Container Store , Spacesavers.com and even Bed, Bath & Beyond. The Internet is a great resource for finding what will look and work best...do your footwork before you head out to the stores, or buy online!
Don't want to tackle the kid chaos? Call The Organizer Gal and let me clear out under those beds, sort through the toys, organize the closets and create a colorful, fun, space that your kids and YOU will love. (I even will do all the shopping and take donation items to your favorite local charities upon request).
Want more organizational tips and advice? Sign up for my (almost) monthly e-newsletter.